DENTAL SERVICES IN SUSANVILLE, CA
SPECIALIZING IN ORTHODONTICS, PEDIATRIC DENTISTRY, AND ORAL AND FACIAL SURGERY. 
LESS MILES, MORE SMILES
Susanville Dental Specialties offers a multitude of services, including pediatrics, orthodontics, and cosmetic treatments. Our office strives to provide a fun and friendly atmosphere where we treat each patient like family. A place where we know you and your family by first name; after all, it is a small town. We believe in simplicity and innovative care using only the best state-of-the-art technology to get you the best smile possible. Our experienced team is backed by decades of caring for patients at well-known practices in the Reno and Sparks areas. They also pride themselves on getting the results of beautiful, healthy smiles we know our patients deserve.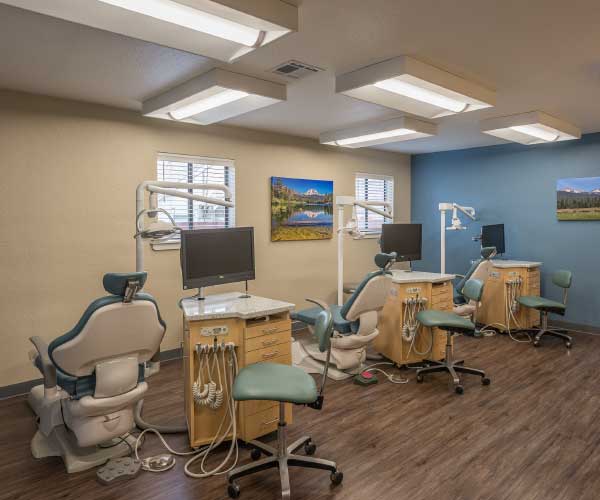 Meet The Team
At Susanville Dental Specialties, we treat you and your family like our family. You will receive individualized comprehensive dental care for you and your child and the best possible patient experience from a group of people who are dedicated to your overall well-being. We bring decades of experience in our specialties of orthodontics, pediatric dental care, and oral surgery to the Susanville area.
Learn More
SEE THE HOMETOWN DIFFERENCE!
What Our Patients Think
SEE WHAT PEOPLE ARE SAYING ABOUT SUSANVILLE DENTAL SPECIALITIES
This has been a new experience for my family and they made it wonderful.

Aaron
Really nice Atmosphere and great service for my 4 year old son. The staff front office, nurses and Doctor very friendly and helpful all the time. They do a complete service really detailed. At the end of the service they gave my 4 year old son a surprise toy. He left really happy. Why go so far when we have this Dentist place that gives all the services you need for our little ones.

Kiki
OUR ADVANTAGES At Susanville Dental Specialties, all patients are welcome. We accept cash, credit, and insurance. Come in for a FREE Complimentary Consultation. With 30+ years of experience, we are experts in all facets of dental care. Using Innovative Technology
All of our dental treatments are furnished with state-of-the-art equipment and maintained at the highest standards.